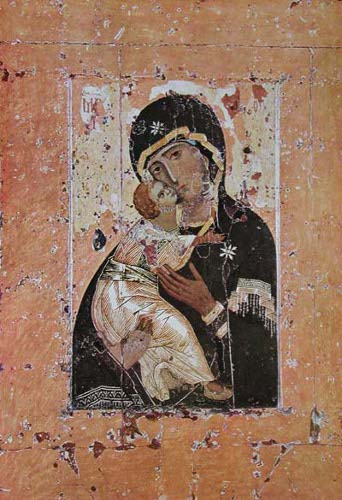 According to legend, the Vladimir Icon of the Mother of God was written by holy apostle and evangelist Luke during the life of the Virgin on the board of the table at which Christ, Mary and Joseph had refected. The icon remained in the Jerusalem until 450. When Theodosius the Younger ruled, the icon was moved to Constantinople. At the beginning of the XII century the Patriarch Luke Hrisoverg sent a special copy of it as a gift to the Grand Duke of Kiev Yuriy Dolgorukiy.
Initially the Vladimir Icon was in the women's monastery of the Virgin in Vyshgorod near Kiev. The son of Yuryi Dolgorukiy Andrew, later nicknamed as Bogoliubskiy, stole the Vyshgorodska icon of the Virgin and moved it to Vladimir (that's how it received the present name) in 1169, where it was installed in the Assumption Cathedral.
During the invasion of Tamerlane in 1395 the venerated icon was transferred to Moscow to defend the city from the conqueror. On the place of the meeting of Muscovites with the Vladimir Icon the Purification Monastery was founded, which gave name to Sretenka street. The fact that Tamerlane's troops turned back not reaching Moscow for no apparent reason was considered to be the intercession of the Virgin. Two more miraculous deliverances from invaders are associated with the icon of Our Lady of Vladimir.
Days of celebration of the icon are:
August 26 / September 8 - in memory of the meeting of the icon in Moscow and the salvation from theTamerlane's invasion in 1395;
June 23 / July 6 - in memory of the deliverance of Russia from the Golden Horde king Ahmad in 1480;
May 21 / June 3 - to commemorate the deliverance of Moscow from the Crimean Khan Makhmet Giray in 1521.