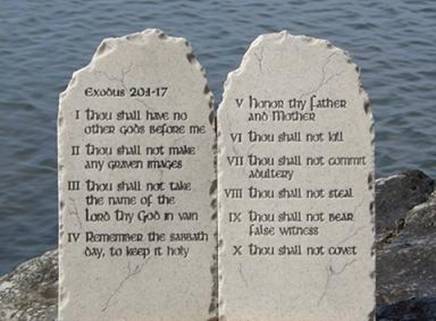 The soul comes in this world and gets the greatest gift from God – it is life. The Lord gave Ten Commandments to humanity for its salvation; in these Commandments the rules of life are described. Our Heavenly Father keeps an eye on people's lives all the time. And He is Loving Father, so he brings up His children. He blesses obedient children and punishes naughty ones. The Lord gave the choice to people – to keep God's Commandments or to ignore them. It is sometimes very difficult to make this choice. Why?
Keeping and understanding are two different things. The man keeps Commandments and does not dare to turn away, he does everything right and has no complications – it is one way. It is said and the man does it without any understanding. But there is another way. The man starts to realize the basic nature of Commandments, which were given to Moses on the Mount for all Israelitish people and as a matter of fact for all world. It is deeper and more important perception, which Jesus Christ brought for all world, for all nations on the Earth.
And I suggest to look at the changes, which are happening with people in Ukraine now. Definitely, there were not many people, who kept God's Commandments and put them in the basic of their lives. They tried to be sincere, kind and helped each other. But the war came on our land and we are changing step by step. We start to understand the basic nature of those Commandments and try to keep them. Because our ability to love, forgive, help each other and act depends on our sincere desire.
Today it is important for us not to be lost in thoughts about ourselves, but start to act, accomplish that mission, which Jesus gave to every soul on the Earth. The mission of bringing Light in this world, changing the world with actions due to that strength, which the Lord gives to your body and soul.
It is important to understand that the majority of people in our country start to change and become better. They do not speak aloud about God, Love, humanity, but they start to act. They love silently; they help silently; without any personal reason or recognition. They just have the desire and the call of soul to do it. Because in such way we change ourselves and start to change surrounding world. And then our country will have a big eye of needle to go through and enter the Light of God. And with our steps, our acts, our kindness and understanding of life we will be able to enlarge that eye of needle and make big gates for all of us and even our country. We will be able to come in Light, Grace, Love like a strong country, which is building on the good foundation.
That is why I ask you to be wise and patient. Ask the Lord for understanding of the events, which happen in our lives, around us. Ask God that He give you Love and forgiveness, because through them you will have wisdom and through wisdom you will have understanding. And understanding will give you strength and call to act good on the Earth.