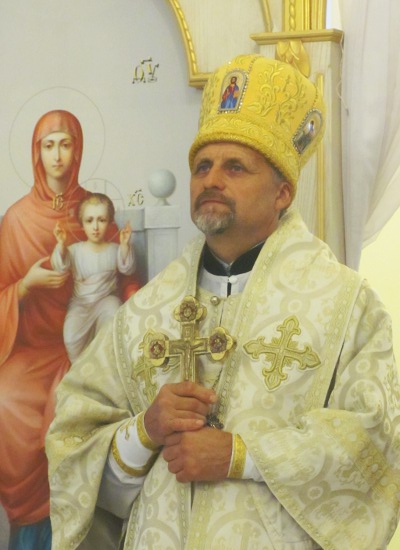 Glory to Jesus Christ, dear brothers and sisters!
I congratulate you with today's feast – the day of birth of the Holy Lady. She accomplished God's Will in full. She did everything what was expected from Her according to God's Will. Because God's Will will be always accomplished. We know that His Will is the Law.
Today we have heard the Gospel of Matthew (Mt. XXII:35-46), where the Lord showed and emphasized the main and the greatest Commandment of God – to love the Lord your God with all your heart and with all your soul and with all your mind. This is the greatest and the first commandment. And we must understand it correctly. Just to know is not enough, it is important to understand it.
We do understand that God created this world. And everything in it happens according to God's Laws. People live on this land during thousands of years. And God's Will consists in the task to build the Kingdom of God on this Earth. And we feel how slowly this process goes, how evil power fights against this Will. And people discover laws of the Earth - Math, Physics. We build houses, make cars, but we do not understand God's Laws in full to build that Kingdom of God.
We see how Empires fell down, because they were built not on the stone which was given by God. And God gave to us His Son – Jesus Christ, that He could explain all God's Laws, that people refuse their arrogance, stop building huge towers, which are falling with time and people could build the Kingdom of God.
"And a second is like it: You shall love your neighbor as yourself." He explained who is a neighbor. A neighbor is that person who loves God the same way as you. He is also a child of God. It means that we are brothers. So, you have to love your brother as yourself.
The neighbor is that man or woman, who is our spiritual brother or sister. We have to love and help them on every step. We see how the man of Samaria did it even if Jews considered the people of Samaria as slaves.
Also God asked: "What do you think about the Christ? Whose son is he?" They said to him, "The son of David." He said to them, "How is it then that David, in the Spirit, calls him Lord? " They did not know right answer. They did not say that He is a Son of God, that He came on this Earth to explain all Commandments, which the Lord gave to people. People could not understand all Commandments in full. They felt difficulties when they fight with evil powers.
We know that way which is described in the Bible as the history of the developing of the humanity. And it happens till nowadays, because the fight is not finished yet. The fight goes on and we feel that it becomes more stressful. And we will be able to build the Kingdom of God only with God's help, with love to your neighbor. Jesus Christ came in this world as the Savior to explain us all God's Commandments, His Laws and to show how to accomplish them.
Glory to Jesus Christ, dear brothers and sisters!