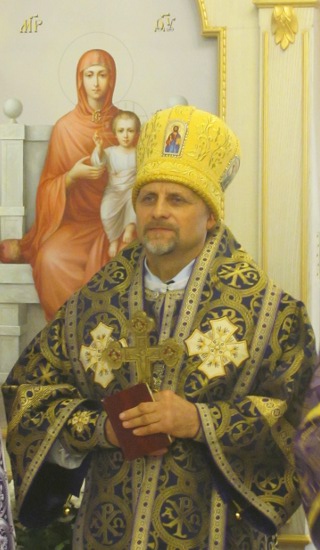 Glory to Jesus Christ, dear brothers and sisters!
I congratulate you with today's feast – the Triumphal Entry of Jesus Christ to Jerusalem. I congratulate you with the Holy Communion.
This feast in Ukraine is called Palm Sunday. And the Lord is not against it. He always comes to that people, who sincerely ask Him and love Him. And that is why God comes in this day to us, as He came in Jerusalem 6 days before Easter. We have read about this in the Gospel today (John XII:1-18). And we also have read how Jesus came with His disciplines in the house of Lazarus, whom He brought to life from dead. And many people in that very moment believed in Him, because He had made such great miracle.
God constantly were walking and teaching people, His power was growing and growing. And when the news about the dying of Lazarus, Jesus' friend, appeared, the Lord didn't go to save him at once, because He knew that God's power would be shown in that situation. He had been waiting for two days. And He came only when everybody had understood that Lazarus was dead. In the next moment Lazarus got up and came out of the cave.
It was such great miracle that people had understood at once that Jesus Christ was the Messiah; and God's power was shown. That is why when Jesus entered Jerusalem, they were greeting Him with palm branches, they were laying their clothes in front of them. And He was ridding the donkey and was crying, because He knew that in a very short time that people would shout: "Crucify Him! "
We also are very happy to greet the Lord and glorify Him. But whatever happens, we should understand that our souls can be filled with good and evil. So when we see good, such great miracle, God's power, we are following Him. But when the other situation happens, we turn from this way and with our doings we crucify Jesus Christ.
In this Gospel we have also heard about Judas Iscariot. And next it is explained his nature. Why he was that one who would betray Our Lord Jesus Christ. So we take the wisdom and understanding to our souls that money is temptation and a great danger for a person. He worked with the box and stole money from it. He did not stand against temptation and that is why betrayed Jesus Christ.
We all together in a week will celebrate resurrection of Our God. But we still have to live through this hard week and feel all sufferings of Jesus. We should together overcome this way. We should deep into all sorrows, purify from all evil things in order to accept His Resurrection, to comprehend everything with the soul and to arise from the dead together with God in that day.
Today I congratulate you with the feast and ask you to remember that our souls should have spiritual bases. That great knowledge, which God gave to His disciplines and later to us through the Gospel is the base, which will help to keep the right way and do not shout: "Crucify Him!" We shouldn't with our doings and sins crucify God, but we should remember that He gave His life for our salvation. And today our salvation is in our power, in our hands.
Glory to Jesus Christ!