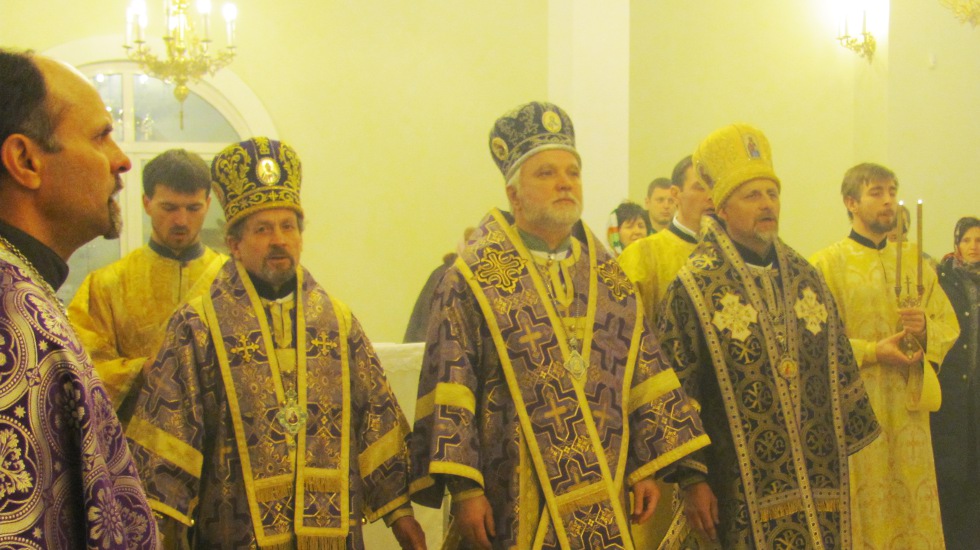 On Palm Sunday, April 13, 2014, in the temple of Transfiguration of the Lord, the festive Divine Liturgy was celebrated by Archbishop Alexander in concelebration with Bishop Vasyliy and Bishop Nicholas in honor of the entry of Jesus into Jerusalem on the eve of severe sufferings and crucifixion on the cross two thousand years ago.
People already knew about the great miracle of resurrection of Lazarus from the dead, so the God's people came with great love and joy to glorify Jesus as the king of Israel. However, there were others, who hated Him, the scribes and the pharisees, as He undermined their authority. His divine light of love, as X-rays, showed blackness of their souls, afflicted with pride, envy and vanity. But they could not do anything for the Lord appeared in His glory. The Heavenly father sent the great power of the angels to support his dear Son, and the God's people felt their presence: "Hosanna in the highest! Hosanna!"- people greeted their Savior. He could be their earthly king, as God the Father left Jesus free choice, which everyone has. But Jesus showed there full trust in our Heavenly Father. Being aware of the terrible torture and martyrdom on the cross, He humbly, as the Lamb of God, gave His life in His holy hands. So each of us, in difficult times and times of suffering, should show full trust in God and praise Him for everything. You have trials - thank God, you suffer - thank God, you are ill with incurable disease - thank God, as nothing is impossible for Him. God loves and inspires us, He never leaves a man alone with the trouble, Ask - and it will be given to you. If you have already felt the Holy Spirit in your heart, then cherish it, protect and thank for the great gift of His love to your Lord.
The Palm Sunday is followed by the Holy Week, the most difficult period of the Lent, when every Christian experiences spiritual sufferings, ascent to the Calvary and crucifixion of his Savior, to feel how hard it was for one man to bear the sins of the whole world. To understand what spiritual strength and power has a man, who performs his holy mission on the earth with love and humility, entrusted him by the Heavenly Father.