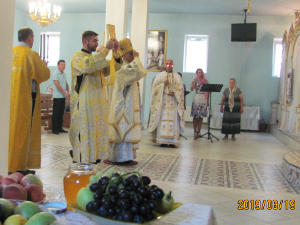 On August 19, 2019, in the temple of Transfiguration of the Lord, Bishop Nicholas ministered the Divine Liturgy in honour of one of 12 main Feasts of Christians of the Eastern rite - the Transfiguration of the Lord. All the present felt the specificity of the prayer in the temple, which was built in honour of the majestic event, in the temple that was built by the faithful with the sincere love and deep faith in the salvation of people, in the awakening of their Divine nature.
The Son of God lived among the people as an ordinary man, but, when the time of large tests came, He transfigured during the prayer on the Mount Thabor in front of His disciples Peter, Jacob and John, opening His Divine essence: his face shone like the sun, and his clothes became white as light. And there appeared to them Moses and Elijah, talking with him, and they spoke with Jesus. And a bright cloud overshadowed them, and a voice from the cloud said,
This is my beloved Son, with whom I am well pleased; listen to him! (Matthew XVII:5)
Future apostles, as followers of the Divine affair, had to see this transfiguration to comprehend the majesty of mission of our Lord and Savior Jesus Christ to be ready, despite the ordeals, to fulfill their mission and to spread the studies of God on the whole Earth.
And today each sincere Christian must understand the essence of this mission and accept the teachings of Jesus Christ with heart and fulfill the Divine Will, to transfigure and fill the soul with the Divine Essence.