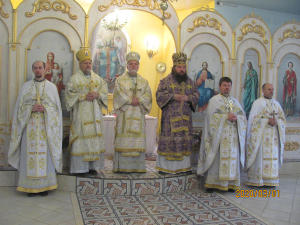 On Forgiveness Sunday, March 1, 2020, in Kyiv Temple of Transfiguration of the Lord, Archbishop Alexander in concelebration with Archbishop Demetrius and Bishop Nicholas ministered Divine Liturgy at the end of which the clergy and the faithful were asking forgiveness from each other in the sincerity of their hearts. And on the eve of the Great Fast, the sacrament of anointing of the faithful was carried out for healing of the souls and bodies of each person, who appealed sincerely to God with the faith in His endless mercy and came up to the clergymen to receive the anointing with oil.
It is very important to learn to forgive for a person, how difficult would it be. So, traditionally on the eve of Lent, on Forgiveness Sunday, we say to each other: "Forgive me for my actions which caused you pain." And in response we hear: "God forgive, I forgive." This is done to release the souls of sinful faults to enter the lent with a clear conscience. However, unfortunately, often when we say these words, the spirit of anger, hostility, offense still remain in the soul. This shows our insincerity, unwillingness or inability to forgive truly, so we pronounce just empty words.
Have you ever thought what would it be with us, if God was only fair? You are guilty - then suffer forever. Are will we be able to live this way? But we know that God is merciful. How many times have He forgiven us in our life? How many times have we received renewal in the Spirit of Life through repentance? Many times. There are no perfect people, those that do not make mistakes. We do many shameful acts, constantly are making mistakes in our life, which later regret, or even do not notice when we do evil to others. And the Lord does not turn away from us, He again lends hand of salvation, forgives us because He loves us, people, such intolerable and unwise. It is an example of how we should act with our neighbor. And we should learn to forgive, learn to love, although sometimes we do not know how to do it right. But God can help us in this, if we ask him: "God help me, I cannot forgive, God, give me love and forgiveness to this person, because you are the source of Mercy, Lord. And give this man love and forgiveness to me."
When a person says it sincerely, then gets these gifts to the full from God that help us stay in such a desired peace and balance, renewing in the Lord's power, fulfilling the commandment which gave us Jesus Christ:
A new commandment I give to you, that you love one another: just as I have loved you, you also are to love one another

John XIII:34.
Confirming in heart genuine Christian values, we become children of God and walk along the road of salvation being led by the Lord himself.