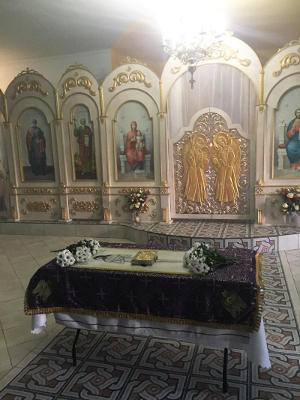 On Holy Friday, April 26, 2019, in the temple of Transfiguration of the Lord, Archbishop Oleksandr, in concelebration with Bishop Nicholas, celebrated the evening service with the rite of the Procession of the Holy Shroud. The Holy Shroud symbolizes remembrance of the Savior's suffering and death on the cross, His removal from the cross and burial. Christ's infinite love for the people is testified by the fact that even when He was crucified, He prayed for His tormentors, saying, "Father, forgive them, for they know not what they do".
The clergy and the faithful with awe came up to the Holy Shroud and kneeling appealed to God with their internal requests.
And I tell you, ask, and it will be given to you; seek, and you will find; knock, and it will be opened to you. For everyone who asks receives, and the one who seeks finds, and to the one who knocks it will be opened. What father among you, if his son asks for a fish, will instead of a fish give him a serpent; 12or if he asks for an egg, will give him a scorpion? If you then, who are evil, know how to give good gifts to your children, how much more will the heavenly Father give the Holy Spirit to those who ask him!
(Luke, 11:9-13)