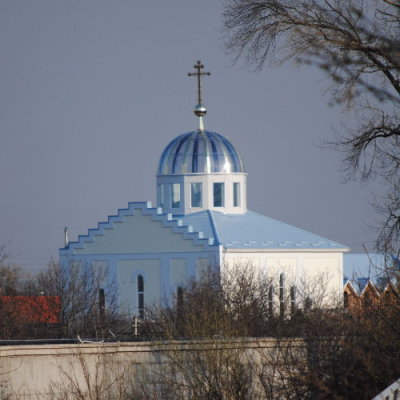 March 31, 2011, was the first anniversary of the crowning with the dome of the Cathedral of Transfiguration of Lord of the Ukrainian Autocephalous Orthodox Church Canonical. During the last decades, many new temples, majestic and gilded, have sprung all over Ukraine. However the Cathedral of the Transfiguration of Lord, the glass dome of which unites with the blue sky above the Kyiv district Osokorky, stands out by its singularity. It is the only temple in the independent Ukraine, whose spiritual foundation rose at first in the hearts of the people faithful to God and then was incarnated in the stone building - the house of Lord on the earth - by their hands. As the spring sprout, shooting through the paving and growing towards the sun, the God's temple was growing on the native land despite of evil forces and overcoming the red tapist obstacles, lack of spirituality and abundance of timeserving.
When the temple was at last crowned with the dome with the gilded cross, the community members experienced the unusual ascent of spirit. The dream, being cherished for long 8 years, finally came true! That was the creation of their hearts, the work of their hands and the most important event in their lives! Are there many people, who can say: "I was building the God's Temple" or "I participated in the building of the temple"? The faithful of the UAOC-C has built and will build their churches by their own to consecrate the Ukrainian land, to raise the spirit of the Ukrainians, to develop the Kingdom of God here, on the Earth.
Blessed is this Temple, built by Lord through His faithful children.
It shall stand for ages!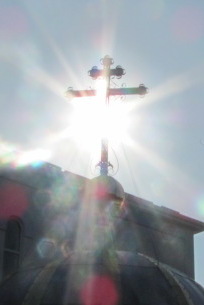 (Verses in the Ukrainian language)
Тут Храм став Божий величавий - Обитель Господа земна.
Хай вознесеться Божа слава до Його Царства -в Небеса.
Освятить ця обитель землю, Засмічену, брудну в гріху,
І люд, що гірку чашу повну вже випив на своїм віку.
Преображення хай настане Землі і людності її -
І день зорею засіяє у час новий, у дні нові!