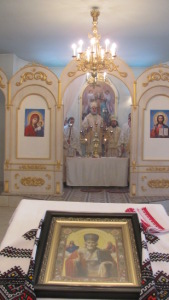 On Saint Nicholas day the festive Divine Liturgy took place in the Transfiguration of Lord Cathedral of the Ukrainian Autocephalous Orthodox Church Canonical.
After the solemn divine service, Saint Nicholas himself and the fair-winged angels visited children, who had come to the temple with their parents. Children were reciting poems and proved they knew how to do good deeds. Violin and flute melodies and also cheerful child's laugh filled the temple. The adults were participating in fascinating games together with children with great pleasure.
Saint Nicholas was very generous. Every boy and every girl received presents and also a rod, which had to remind children they had to be always kind to earn heavenly gifts from Saint Nicholas in a year.
After all, children also made presents to generous guest - everyone brought their drawings to invite in such a way Saint Nicholas next year.