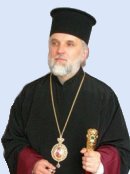 Glory to Jesus Christ!
I congratulate you on the occasion of the Birth of the Blessed Virgin!
It is a feast honoring nature of a woman-mother, through her God gave salvation to people - Jesus Christ was born for the world!
This holiday opens us Mary as an example of holy mission for women, for faithful and humble service to God and salvation of men.
Difficult path was passed by Mary from Nazareth.
Notification of Gabriel about her life, the joy of birth of the first child, persecution and the Cross, on which was crucified her baby ...
Happiness and humiliation, joy and despair, hope and loss. And she, apparently, wanted a simple, sincere and peaceful life.
"A sword will pierce through your own soul also, so that thoughts from many hearts may be revealed," foretells her righteous Simeon ...
Suffering and rejection of this unjust and imperfect human world opens the heart of the Mother of the Savior. The great stage of her service to God starts. Good advice, help to disadvantaged, stories about the life and miracles of her Son - Jesus Christ and the spiritual support of people of faith - now fills the soul of the Virgin.
During the persecution of Christianity, Apostles of Jesus Christ always felt spiritual support and prayer of God.
Mother of God even today continues its mission to help people.
Concluding his earthly journey, Virgin promised to be a defender of the people on earth - and millions of people feel this protection and assistance.
During these holidays, our thoughts are constantly directed to perfect spiritual image of the Mother of God.
May Our Lady protect us, help us to improve spiritually and come into the Kingdom of the living God.
Glory to Jesus Christ!