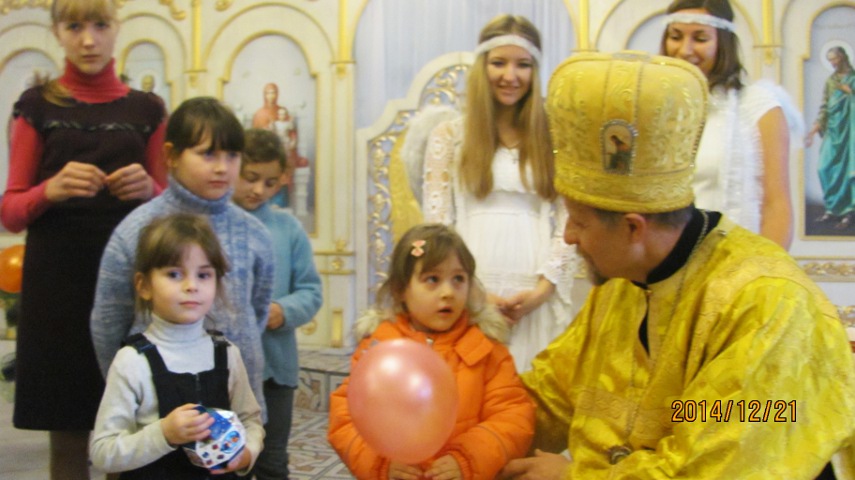 The real celebration of happiness and good happened on December 21, 2014 in the Transfiguration of the Lord Temple after the Divine Liturgy. Striplings and adults felt themselves near God's Angels and Saint Nicholas who came to the Temple on the occasion of his birth to greet all kind, polite children of God with the beginning of New Year's holidays and the coming of Christmas.
The celebration started with funny entertainment: children with God's Angels played snowballs, drew a greeting card for Saint Nicholas and decorated Christmas tree with hand-made toys. Later they greeted all adults and treated them with sweets.
Finally Saint Nicholas appeared. Children trying to outrun each other told Him rhymes, sang songs and got presents as a prize. To watch how much children were trying brought a great pleasure to adults.
In the end of the celebration children and adults together with God's Angels and Saint Nicholas made funny round dance and sand songs. All present were also treated with very tasty festive biscuits – gingerbread men and toy biscuit house, which were made and decorated by Father Maksym and Deacon Oleksandr.
A great gratitude to all people, who took part in the process of creation of the very happy and tasty celebration of good for community - the day of Saint Nicholas.
Let the Lord bless all of us and make the world better through our good hearts.
Happy holidays!