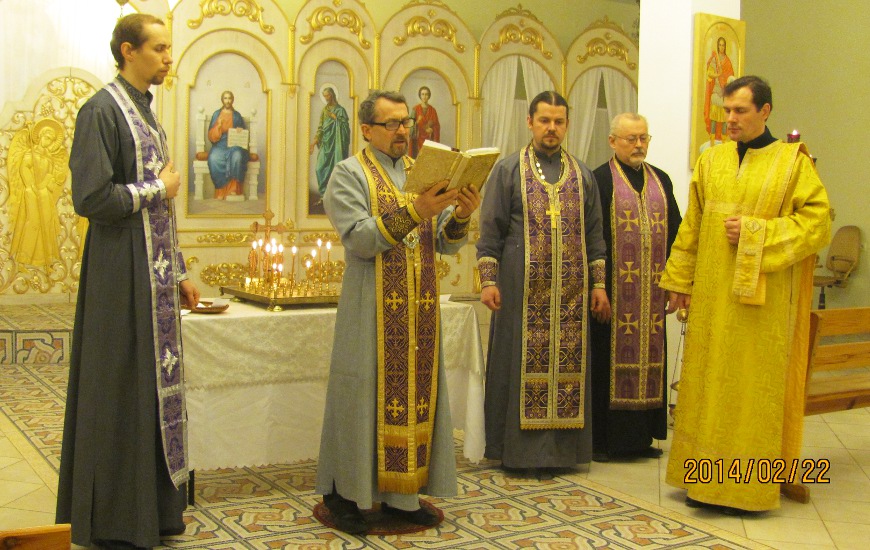 On Saturday February 22, in the Transfiguration of the Lord Temple, the memorial service was accomplished for departed heroes, who sacrificed their lives in the name of the Ukrainian people, in the name of independent Ukraine.
In a blessed falling asleep, grant, O Lord, eternal rest unto Thy departed servants and make their memory to be eternal!
Memory eternal! Memory eternal! Memory eternal!
Heroes:
| | | | |
| --- | --- | --- | --- |
| 1. |   Pavlo Mazurenko | 41 years old, died on December 22, 2013 |   |
| 2. | Yuriy Verbytsky | Lviv, died on January 21 or 22, 2014 |   |
| 3. | Serhiy Nigoyan | 20 years old, died on January 22, 2014 |   |
| 4. | Mikhail Zhyzneuski | 25 year old, came from Byelorussia, died on January 22, 2014 |   |
| 5. | Roman Senyk | He was born in 1968 in Lviv Oblast, died on January 25, 2014 |   |
| 6. | Bohdan Kalyniak | 52 years old from Kolomyia, Ivano-Frankivsk, died on January 28, 2014 |   |
| 7. | Serhiy Synenko | AutoMaidan activist. Zaporizhia. Died on February 13, 2014 |   |
| 8. | Serhiy Didych | 44 years old from Ivano-Frankivsk, died on February 18,2014 |   |
| 9. | Volodymyr Kulchytskyi | 65 years old, Kyiv Oblast, Dymer. Died on February 18, 2014 |   |
| 10. | Serhiy Shapoval | He was born in 1969 in Kyiv, died on February 18, 2014 |   |
| 11. | Ihor Serdyuk | From Kremenchug. 40 years old. Died on February 18, 2014 |   |
| 12. | Zurab Khurtsia | Georgian, 53 years old. Died on February 18, 2014 |   |
| 13. | Antonina Dvoryanets | From Brovary. Kyiv Oblast. 62 years old. Died on February 18, 2014 |   |
| 14. | Vyacheslav Veremiy | 34 years old from Kyiv, died on February 18, 2014 |   |
| 15. | Valeriy Brezdenyuk | 50 years old from Zhmerynka, Vinnytska Oblast, died on February 18, 2014 |   |
| 16. | Andriy Korchak | 49 years old, Stryi, Lviv Oblast. Died on Ferbruary 18, 2014 |   |
| 17. | Volodymyr Naumov | Was born in 1970 in Donetsk Oblast, Shevchenko. Died on February 18, 2014 |   |
| 18. | Oleksandr Kapinos | 29 years old from Dunaiv, Ternopol Oblast. Died on February 18, 2014 |   |
| 19. | Oleksandr Plekhanov | 22 years old, died on February 18, 2014 |   |
| 20. | Yakiv Zaiko | Zhytomyr. 73 years old. Died on February 18, 2014 |   |
| 21. | Volodymyr Kulchytskyi | From Kyiv. 65 years old. Died on February 18, 2014 |   |
| 22. | Andriy Chernenko | 35 years old from Kyiv. Died on February 19, 2014 |   |
| 23. | Yuriy Paskhalin | 30 years old from Nosachiv, Cherkasy Oblast. Died on February 19, 2014 |   |
| 24. | Vitaliy Vasyltsov | He was born in 1977 in Bila Tserkva, Kyiv Oblast. Died on February 19, 2014 |   |
| 25. | Roman Varenytsia | He was born in 1978 in Yavoriv region, Lviv Oblast. Died on February 20, 2014 |   |
| 26. | Ivan Panteleev | He was born in 1981 in Kramatorsk. Died on February 20, 2014 |   |
| 27. | Roman Tochyn | He was born in 1969 in Khodoriv, Lviv Oblast. Died on February 20, 2014 |   |
| 28. | Viktor Chmilenko | He was born in 1961 in Borysivka, Kirovograd Oblast. Died on February 20, 2014 |   |
| 29. | Oleh Ushnevych | He was born in 1982 in Drohobych and lived in Skole. Died on February 20, 2014 |   |
| 30. | Igor Tkachuk | He was born in 1975 in Znamensk, Kaliningrad Oblast (Russia) and lived in Velyka Kamianka, Kolomyia region. Died on February 20, 2014 |   |
| 31. | Oleksandr Tsariok | Kalinin, Vasylkiv Raion, Kyiv Oblast. Died on February 20, 2014 |   |
| 32. | Ustym Holodniuk | from Zbarazh, Ternopil Oblast,(age 19–20). Died on February 20, 2014 |   |
| 33. | Oleksandr Shcherbaniuk | He was born in 1968 in Chernivtsi. Afghanistan war veteran. Died on February 20, 2014 |   |
| 34. | Ihor Kostenko | He was born in 1991 in Lviv. Died on February 20, 2014 |   |
| 35. | Yosyp Shylinh | (age 61) from Drogobych. Died on February 20, 2014 |   |
| 36. | Yuriy Parashchuk | Lived in Kharkiv, born in Talne, Cherkassy Oblast. Born in 1966. Died on February 20, 2014 |   |
| 37. | Mykola Dziavulsky | He was from Shepetivka, Khmelnytskyi Oblast. (age 55–56) Died on February 20, 2014 |   |
| 38. | Bogdan Solchanyk | He was born in 1985 in Stary Sambir, Lvivsky region. Died on February 20, 2014 |   |
| 39. | Serhiy Bondarchuk | He was from Starokostiantyniv, Khmelnytskyi Oblast.(age 52–53) Died on February 20, 2014 |   |
| 40. | Volodymyr Zakharov | He was 57 years old. Died on February 18, 2014 |   |
| 41. | Viktor Smilenko | He was born in 1961 in Borysivka, Kirovograd Oblast. Died on February 20, 2014 |   |
| 42. | Vasyliy Moisei | He was from Kivertsy, Volynsky Oblast (age 21). Died on February 20, 2014 |   |
| 43. | Serhiy Baidovskyi | He was from Lutsk, originally from Novovolynsk. 22 years. Died on February 20, 2014 |   |
| 44. | Georgiy Arutiunyan | Citizen of Georgia, lived in Rivne, (age 50). Died on February 20, 2014 |   |
| 45. | Nazar Voytovych | He was a 17 years old teenager from Travneve, Ternopil Oblast. Died on February 20, 2014 |   |
| 46. | Eduard Hrynevych | He was born in 1985 in Derevok, Volyn Oblast. Died on February 20, 2014 |   |
| 47. | Anatoliy Zhalovaha | He was born in 1980 in Lviv. Died on February 20, 2014 |   |
| 48. | Volodymyr Zherebniy | He was born in 1985 in Vishnya village (moved to Rudki), Lvivsky region. Died on February 20, 2014 |   |
| 49. | Serhiy Kemskyi | He was born in 1981 in Korosten, Zhytomyr Oblast. Died on February 20, 2014 |   |
| 50. | Andrii Movchan | He was 34 years old. He was from Kyiv. Died on February 20, 2014 |   |
| 51. | Vitaliy Smolensky | He was from Furmanka, Uman region. He lived and worked in Kyiv. Died on February 20, 2014 |   |
| 52. | Victor Chernets | He was born in 1977 in Podibna, Cherkassy Oblast. Died on February 19, 2014 |   |
| 53. | Dmytro Pahor | He was from Khropotova, Khmelnitsky Oblast, (age 21). Died on February 19, 2014 |   |
| 54. | Andriy Dyhdalovych | Sokilnyky, Pustomytivsky region, Lviv Oblast, born in 1973. Died on February 20, 2014 |   |
| 55. | Bohdan Vaida | He was from Letnia village, Lviv Oblast, (age 48). Died on February 20, 2014 |   |
| 56. | David Kipiani | He was a citizen of Georgia. Died on February 21, 2014 |   |
| 57. | Serhiy Bondarev | Originally from Kramatorsk, Donetsk Oblast, but he lived and worked in Kyiv. Died on February 18, 2014 |   |
| 58. | Vitaliy Vasyltsov | He was born in 1977 in Bila Cherkva, Kyiv Oblast. Died on February 19, 2014 |   |
| 59. | Roman Huryk | He was born in Ivano-Frankivsk in 1994. Died on February 19, 2014 |   |
| 60. | Ihor Dmytriv | He was from Kopanky village, Ivano-Frankivsk region, (age 30). Died on February 20, 2014 |   |
| 61. | Anatoliy Korneyev | From Havrylivtsy, Kamianets-Podilsk region. Died on February 20, 2014 |   |
| 62. | Vitaliy Kotsyuba | He was born in Lviv in 1982. Died on February 20, 2014 |   |
| 63. | Valeriy Opanasyuk | He was from Rivne, he had 4 children. Died on February 20, 2014 |   |
| 64. | Volodymyr Pavliuk | Kolomyya, Ivano-Frankivsk region, (age 40). Died on February 20, 2014 |   |
| 65. | Mykola Pankiv | 39 years old from Lapaivka, Lviv Oblast. Died on February 20, 2014 |   |
| 66. | Oleksandr Khrapchenko | He was born in 1987 in Zdolbuniv. Died on February 20, 2014 |   |
| 67. | Maksym Shymko | From Vinnitsa (age 33). Died on February 20, 2014 |   |
| 68. | Ivan Bliok | He was born in 1973 in Horodok, Lviv Oblast. Died on February 20, 2014 |   |
| 69. | Ivan Tarasiuk | He was born in 1993 in Olyka, Volyn Oblast. Died on February 20, 2014 |   |
| 70. | Leonid Poliansky | He was about 35 years old. He was from Zhmerenka, Vinnychia Oblast |   |
| 71. | Andrii Saenko | He was born in 1962 in Fastiv, Kyiv Oblast. Died on February 20, 2014 |   |
| 72. | Evhen Kotliar | He was born in 1980 in Kharkov. Died on February 20, 2014 |   |
| 73. | Lyudmila Sheremeta | Khmelnitsky city, (age 75). Died on February 22, 2014 |   |
| 74. | Dmytro Maksymov | Died on February 18, 2014.(age 19) |   |
| 75. | Viktor Shvets | From Kyiv. Died on February 19, 2014 |   |
| 76. | Andriy Tsepun | 35 years old from Kyiv. Died on February 21, 2014 |   |
| 77. | Maksym Mashkov | Died on February 21, 2014 |   |
| 78. | Maksym Horoshyshyn | 25 years old from Hrushivka village, Cherkasy Oblast. Died on February 18, 2014 |   |
| 79. | Oleh | He was from Kremenchug region in Poltava Oblast. Died on February 23, 2014 |   |