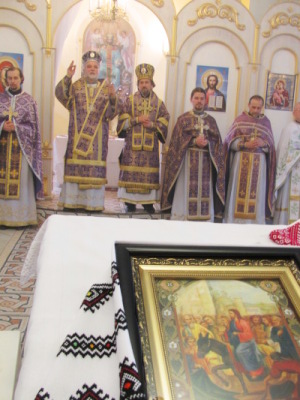 On the last Sunday of Lent, April 8, 2012, in Kyiv Cathedral of Transfiguration of the Lord of the Ukrainian Autocephalous Orthodox Church Canonical, Bishop Oleksandr  of Zhytomyr in concelebration with Bishop Vasyliy of Fastiv celebrated the HolyDivine Liturgy in honor of the solemn Entry of our Savior Jesus Christ into Jerusalem. Then He was greeted by many people. They took palm branches and joyfully welcomed the Savior as their king: "Hosanna: Blessed is he who comes in the name of the Lord! King of Israel!" The Lord knew that in a few days he would experience sufferings and martyrdom on the cross to expiate the human sins. With His great love and infinite mercy, He prepared to sacrifice Himself to atone our sins with His own blood for we were able to inherit the eternal life with Heavenly Father in His kingdom.
On this happy day of the glorious entry of Jesus Christ into Jerusalem, on the eve of Holy Week, the Church celebrates Palm Sunday, so the willow branches as a symbol of palm branches were consecrated  after the Divine Liturgy.
Among the Ukrainian people such blessed willow has always enjoyed great respect. It has been attributed magic power to, it is used in folk medicine among other herbs. And if to take a consecrated sprig of willow, as Ukrainians believe  even today , and to whip a relative or a friend for fun, saying: "I am not beating - willow  is beating you for good luck, health, many years of life" - it protects  from various diseases and disorders.
Instead, every true Christian knows that in reality it is not a willow  which protects us against all the evil evil, it is God God being incarnated two thousand years ago in the body of Jesus Christ to teach people to live in love, that is with God. But if one kills Love his/her heart,  evil  is settled there  in the form of hatred, envy, revenge,and begins to destroy a soul, and then a body. So, let's follow the Lord and remember:
"Blessed is he who comes in the name of the Lord!"