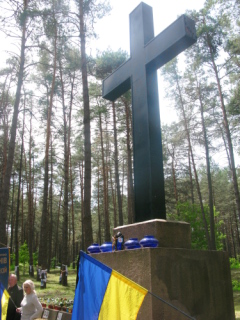 20 May 2012, on the Day of All-Ukrainian Sorrow in commemoration of victims of totalitarian regime, the clergy and the faithful of the Ukrainian Autocephalous Orthodox Church Canonical took part in the mourning ceremonies in the suburb of Kyiv in Bykivnia wood, where the largest place of burying of mass victims of political repressions is situated in Ukraine. There was the place for special purposes of NKVD, where in the end of 1930s-1940s was the mass burying of shot and tortured people by Stalin rule. The tragedy of Bykivnia is very similar to the other crimes such as in Auschwitz, Buchenwald, Dachau, Babi Yar and Katyn massacre.
Mourning actions were started with office for the dead, celebrated by hierarchs of several Ukrainian Churches of different confessions. In the end of the prayers for the souls of tortured and shot Ukrainians the manifestation was started. Some deputies of the Verkhovna Rada of Ukraine, representatives of the social organizations, ambassadors of foreign countries - the USA, Canada, Czech Republic and Slovakia delivered the speeches. All speakers were unanimous in the fact that similar tragedies should not happen again in the Ukrainian land and every citizen, every conscious person must make great efforts for it.
On behalf of the Ukrainian Autocephalous Orthodox Church Canonical Bishop of Zhytomyr, Oleksandr made a speech on the manifestation. Vladyka mentioned that such tragedies, as the tragedy in the Bykivnia wood, occured as the result of the total extermination of churches, repressions of priests by the Bolshevist and communist regime. It is a pity that even in modern Ukraine the Stalin methods continue to work. The confirmation for this is the decision of Kyiv state authorities to ruin the new temple of the UAOC-C, Temple of Transfiguration of the Lord. So, the evil continue to work in our country, if some statesmen encroach on the spiritual holy places of their people.
Lifelong memory for our innocently killed brothers and sisters. Let the Ukrainian land never again see the terrible tragedies of cruelty, tyranny, genocide and mass manslaughters. Let the Lord fill every soul and every heart with His boundless love and send peace and grace on our native country.