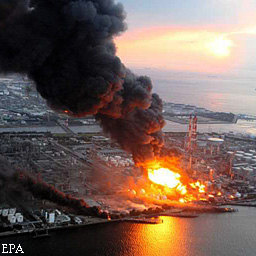 In these tragic days for Japan the clergy and the faithful of the Ukrainian Autocephalous Orthodox Church Canonical in their prayers to our Lord Jesus Christ, to the Heavenly Father ask to strengthen and help Japanese people to cope with the terrible ordeals.
March 11, the earthquake and tsunami fell upon the Japanese islands taking away thousands of human victims, causing merciless destruction and the global-level technological disaster. There were no similar catastrophes in the modern history - the nature almost instantly destroyed one of the richest countries, which has influence on the political and economic systems of the whole world. Incredibly hard times come for Japanese people.
The clergy and the faithful of the UAOC-C appeal to all the people of good will, regardless of their religious identity and ask them to unite in sincere prayer for the distressing Japanese people, and ask our Heavenly Father to stop the disasters and defend His children, to strengthen and to bless the Japanese people with His kindness and love.